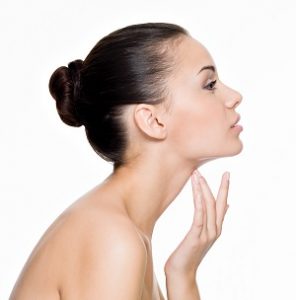 Here at Facial Plastic and Reconstructive Surgery, we are very proud to assist our patients by offering chin augmentation surgery. We serve Richmond, VA and the surrounding areas.
The shape of your chin can have a huge impact on the overall appearance of your face. Because of this, many people are interested in a chin augmentation. A chin augmentation is a surgical procedure that uses implants to alter the underlying structure of the face. This will balance the facial features better.
The medical term for chin augmentation is mentoplasty and genioplasty. The terms mean to reduce and add material to the patient's chin.
In this surgery, incisions are made on either side of the mouth as well as under the chin. Our qualified and friendly surgeon will sculpt the bone so that it is a more pleasing size. Our surgeon may also make an incision inside the mouth and reposition the facial bones. We may decide to do this prior to surgery depending on your goals.
This procedure will only take one to three hours. We will give you instructions prior to surgery to ensure that you heal properly and get the best results. We are always available to speak to you if you have any questions. Our entire staff wants only the best for you and would love to work with you to achieve your goal.
If you have any questions about chin augmentation surgery or would like to schedule a consultation, contact us today at (804) 484-3700.